It seems incredible that in the year 2022 we talk about the idea of running out of water . A conversation that would seem ridiculous a few decades ago, considering that 70% of the surface of our planet is covered by liquid. However, climate change and local environmental degradation has led us to have these types of problems much sooner than expected.
Precisely making this strange dilemma something closer and more manageable was the objective of the 2811 program, Weltweit eV and Ja Slovenija Climate Action Academy: Water, online training on climate change, water management and green solutions with the participation of educators and organizations from Germany and Slovenia, which took place from April 28 to June 2, 2022.
Funded by the Erasmus+ Program of the European Union and Clément Stiftung, this project offers the opportunity for teachers, members of youth organizations, experts, facilitators and students to interact, exchange and reflect on how to harness the potential of their communities in order to face up to global environmental challenges.
According to Remy Rupp, a consultant for Climate Action 2811, due to the August 2021 flood disasters in Germany, the country's confidence about climate change has radically changed. "The country has realized, little by little, that climate change will also affect it. In fact, on that occasion all the emergency services, considered infallible, failed. This danger has also been present in Slovenia, which is surrounded by rivers and frozen water from the Alps.
For this reason, 2811, Weltweit eV and Ja Slovenija decided to carry out a program that will train teachers and organizations, providing them with information and scientific experiences on the water crisis, hoping that in their classes and circles they can create awareness of how to mitigate the processes of climate change. In the case of 2811, his work focused on the development of skills and abilities for the future, which require better levels of resilience, the ability to navigate uncertainty and mobilize local and global changes.
The global and local perspective is critical to face the challenges that are emerging, that is why the program was largely virtual, with participants from different countries. "The schedule consisted of 8-hour group sessions (videoconference), 12 hours of individual work, and a synchronous final session between Germany and Slovenia. Divided into 5 modules, the sessions focused on topics such as: 'Understanding the climate crisis', 'Trends in climate education', 'Educational activities and tools', 'Visualizing a livable future' and, finally, the joint module between both countries," Remy clarified.
The program focused on the concepts of systems thinking and challenge-based learning , where both provide an innovative framework, while solving real challenges and reinforcing essential skills and competencies, such as uncertainty management, creativity and self-efficacy. Throughout the Academy, the participants learned to map where, how and when the main environmental conflicts occur, in addition to generating possible solutions.
An innovative program that even brought back allies who have worked with 2811 on other projects, such as the program Young Innovators of EIT Climate-KIC, dedicated to accelerating the transition towards a climate resilient society, and supported by the European Institute of Innovation and Technology.
"Our experience with 2811 began when they organized a Young Climathon in Linares, Chile, where we quickly noticed their great experience and enthusiasm, aligning perfectly with Climate-KIC 's values.
For this reason, we once again trust them to carry out this Academy, with which it is hoped to open people's eyes regarding the importance of water, especially due to droughts and floods and access to drinking water, which is is at risk for more and more communities", explained Bram Drijvers, coordinator of the Young Innovators program of Climate-KIC, an educational program that builds the capacity of young people to develop innovative solutions to climate change.
Despite the fact that several media and organizations have already talked about the water problem, the Climate Action Academy: Water can be considered unique within its area, especially for its particular pedagogical methods. A fact shared by its participants, who have already begun to design programs that include the knowledge acquired.
"It was like a school, with group work and description of images. There is a lot of good content. I like that we have also been able to keep in touch with the other organizations, in order to take into account what kind of projects they are doing, building new networking opportunities", declared Lena Stingl, a member of the organization Ecokids Germany and participant of the first edition.
For his part, Kimon Letzner, founder of GemeinSchafftNatur, another participant from Germany, said: "Something that was very fruitful was the exchange between NGOs, teachers and other entities in the area. Until this Academy, I had never participated in workshops where these different actors met. Now I see this space as a great platform to create new partnerships between educational bodies, municipalities, city administrations, etc."
"I think we can continue creating consortia thanks to the foundations provided by the Climate Action Academy: Water . I am sure that this space will have an impact in the community", complemented Klavdija Česnik, a participant from Slovenia, who works in a local development agency.
A positive closure that corroborates the results of the surveys carried out on the participants, after the process, in which 100% responded that they were sure of integrating the knowledge acquired on climate change, a figure that was repeated when asked if they would integrate the information acquired in their classes as teachers.
According to the 2811 team itself, the Academy of Climate Action: Water does not expect to provide an answer to the environmental imbalance -even when they would like to-, but rather it hopes to produce a snowball effect, where the first impact [información] the participants receive it, and the second, the people close to it and so on.
"We hope that the participants do not think that they can solve all the problems regarding climate change and water, but rather that they become role models for their students and closest circles. What we give them are tools and knowledge to integrate climate action into their curricula, thus motivating younger people to learn about and get involved in the subject. The idea is not to deliver solutions, but to empower them to think differently; it's about a mindset shift," Remy explained.
"In the end, it is about doing everything possible to preserve our planet, where young people play an essential role. It is up to all of us to help the next generations to take advantage of their potential, and we see how the Climate Action Academy: Water contributes to this", concluded the coordinator of Young Innovators.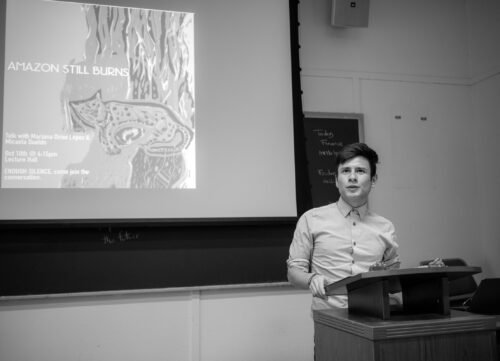 Felipe Fontecilla spoke to us about his perspectives and opinions in his early days as director of Acción Climática in [...]
Read more