In 2022, our goal was to strengthen our programs and amplify our impact. We managed to impact thousands of people thanks to teamwork and collaboration. At the end of the year, we celebrate our achievements and look forward to 2023 with optimism and energy. We work with change agents in more than 10 countries, generating knowledge together to build a future focused on regeneration.
We strive for change today to achieve a sustainable future. We believe that people and communities have the capacity to heal inherited wounds and face new challenges, living in balance with other species and future generations.
In 2022 we promote the skills of nearly 3,000 boys, girls and young people , we collaborate with more than 50 educational institutions and support more than 200 social innovations and ventures to generate impact in needy areas. In addition, we work on the Hola América program with Ashoka to promote social innovation in migration in the region.
We also take this opportunity to thank the more than 100 organizations that trusted in our work this year. We could not have achieved these achievements alone.
In 2022, we come together to carry out projects in areas such as social, ecological and economic regeneration. We achieved an integrated development that allowed us to collaborate with people and organizations both locally and globally, overcoming barriers and working together.
Our organization managed to involve 2,628 people from 9 countries in its ecological, social and economic regeneration projects. These were the main milestones of 2022:
The
Ecological Regeneration
project
it reached 2,108 people and had the participation of 40 educational institutions. The Climate Action Academy , a virtual program on climate change and educational innovation, involved 150 leaders from educational settings, artists, and members of local organizations from Chile, Colombia, the United States, Germany, and Slovenia.
The training program in climate action and food resilience
Como con Eco
was and is a project aimed at teachers from colleges and universities in Colombia, presented by the 2811 Climate Action Academy and the EAN University. Its objective is to provide tools to learn about resilient food systems in relation to climate change and the role as agents of change in the development of associated processes. In 2022 we managed to instruct 423 teachers from colleges and universities with the course.
For its part, the Young Climathon , created in conjunction with Climate KIC, allowed children and young people to co-create solutions to current environmental challenges with a focus on their territories. 740 children and young people from Colombia, the United States and Chile participated. The Climate Action Camp, an event that empowers students as agents of change through activities that address local problems, was held in Chile. We work on water and waste issues in conjunction with the Minera Escondida Foundation .
In the field of Social Regeneration , 319 people were reached, 113 ventures were accelerated and 48 organizations and institutions were involved. The Hola América project, in partnership with Ashoka, sought to strengthen the ecosystem and accelerate projects to solve the challenges of migrant and refugee communities in Latin America.
In Ecuador, the Sin Fronteras program, in partnership with the IDB Lab and the Crisfe Foundation , promoted the economic reactivation and social integration of people in a situation of internal and external human mobility. Thanks to this program, we were able to impact 60 businesses, and 82% of them considered that thanks to Sin Fronteras they could improve their value propositions and business systems.
In the field of Economic Regeneration , 201 people were reached. The Impact Investment Course: Latin American Context was held, in partnership with the Regional Center for Sustainable Finance of the Universidad de los Andes and the Colombian Association of Private Capital ColCapital, with 60 participants from 5 Latin American countries. In addition, the Course in Sustainable Finance and Impact Investment was carried out in alliance with the DAAD .
The year 2022 was successful for our organization, as we were able to strengthen our programs and amplify our impact on thousands of people. Our teamwork and collaboration allowed us to generate knowledge to build a future focused on regeneration.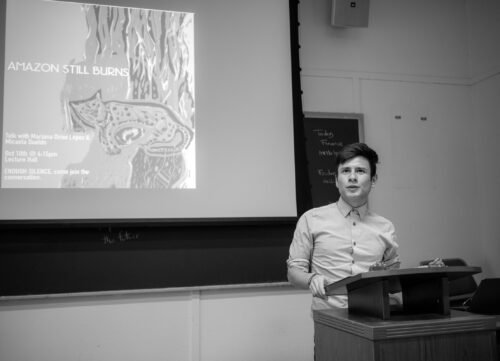 Felipe Fontecilla spoke to us about his perspectives and opinions in his early days as director of Acción Climática in [...]
Read more