Presence is a great tool that humans can count on. We all have it available to use when we need it. My key to enter there (and thus to deep listening) has been meditation. Regular practice has allowed me to develop awareness and being present
Article / Four different levels of listening identified by Otto Scharmer in Theory U. The first time I saw them I was captivated. I had just participated in a 9-day intensive training in Nonviolent Communication (NVC) and was enjoying putting into practice in my conversations some of the distinctions learned there. Listening had already changed from the mere coordination of activities, to a deeply spiritual and loving practice.
While the key CNV distinctions allowed me to connect with others in a deeper way, Scharmer's proposed levels of listening allowed me to see a revamped model of listening in its entirety. Together with the three fundamental attitudes that he identifies for the operation of Theory U (open mind, open heart, open will), it was an invitation to experience listening in a new way.
I began to find myself using these levels (and finding myself using them) in my daily life; recognizing when I am operating in a downloading logic (first level of listening), sticking to my own perspective and my thought patterns and habits. Sometimes, when I realize this, I try to connect with my curiosity, open my mind, and then I begin to operate from factual listening (second level), opening myself to understanding and new ideas.
From my own experience and from the tone of those conversations, it's clear when that shift happens: I'm less in my head and more in what I hear. I feel more interested in conversations. Although it is subtle, the difference allowed me to see the power of curiosity to overcome prejudices.
The next level seemed familiar to me: my experience with NVC and other personal development processes had already shown me the power to open my heart and allow myself to feel with whom I listen, through empathic listening (third level). However, rediscovering this level from a Theory U perspective felt fresh and new to me. It also motivates me to practice this listening knowing that there is one more level to discover; that not everything remains in empathy. As Fred Laloux suggests in Reinventing Organizations, the excess energy of the green stage of development endlessly connects us and can blind or stagnate us from our need to act and build our common future.
The premise from what Scharmer proposed is that connecting with courage and opening the will allows one to experience generative listening (fourth level of listening). Although he knew the meaning of the words of the statement, he was not clear how it was that the implementation of the matter happened. I felt that opening the will required another attitude, another tool. I felt relief when I understood that presence played a fundamental role in this way of listening. Letting go of expectations and opening up to the spectrum of possibilities with the conversation that happens reveals a much deeper understanding of the way we communicate.
Theory U invites us to discover the potential of presence by navigating and facilitating the waters of change, or -in Scharmer's words- "leading from the emerging future". The way and the possibility for this to happen escapes a model or a set of distinctions. I have experienced it as a process of practices, attitudes, and changes in attention woven into a spiral that modifies the disposition, perception, response, and general configuration of our experience. Thus occurs the opening of the opportunity for leaders to tune in to the unfolding of life. Perhaps even better, it enables those navigating the frontier of that deployment to provide accolades and sustain collective leadership so that the communities they lead can more easily evolve and adapt to the challenges of our present.

As you may already know (if you've read any Theory U – if not, there's a great website at www.presencing.org and a great free online u.lab course at www.edx.org), the approach suggests that the core of the process is presence, being fully present, open and thrown into the unfolding of life. This is not our natural state: as Eckhart Tolle shows in The Power of Now, we live sparsely in the present moment, and it is wonderful to cultivate.

Presence is a great tool that humans can count on. We all have it available to use when we need it. My key to enter there (and thus to deep listening) has been meditation. Regular practice has allowed me to develop awareness and being present. This awareness about the state I am in is what allows me to realize the internal place from where I listen and then, with courage, open myself to the possibilities.

This idea of opening up to possibilities was a precise link from Theory U to another source that has nurtured my path: The Art of Possibility by Benjamin Zander and Rosamund Stone Zander. In this brilliant work, the couple suggests 13 exercises to develop openness to possibilities. The key: the possibility is not something external and different from me. It's more of a pattern, a vibrational state of my relationship with reality. It is the operating condition of the place of occurrence: where the experience occurs.

Entering that place of awareness requires tuning into the fabric of reality. I have found myself several times sharing the image of a harpist who, reaching the climax of a piece of music, strums the strings with both hands simultaneously: the left animates the strings upward from the long, deep low strings, while the right hand begins by stroking the bright, short high strings and continues down. The entire movement is repeated alternately and together with the sound a vibrational space is created between the different strings: the whole set offers a powerful non-verbal explanation of string theory.

Connecting to the space of happening is something I experience only after spending 10 days in silence during a Vipassana meditation training. The technique is emphatic in showing attention as the most important tool of our meditation. "Work diligently" is the constant reminder, "you will surely make it", Goenkaji assures during the long meditative days. After experimenting and realizing how my attention became more precise and fine-tuned, I understand Scharmer's invitation more clearly: "pay attention to your attention". That is the key to start experimenting, distinguishing and registering the different levels of listening that it offers.
Feelings, needs and possibility.
Following our western logic, I am often tempted to believe that, at these Scharmer levels, a higher level is better. Thus, I often find myself trying to maintain a state of generative listening. Then often something else appears: a need to function in a more practical and easy way: coordinating instructions, listening in a seminar as part of an audience. With each of these experiences, I realize that in listening, all four levels are necessary and perhaps the art consists in learning to occupy the most relevant level.

It's more elaborate than just deciding which level is most appropriate. Listening from the highest levels also requires making available internal resources of empathy, time, disposition, openness, tolerance. The more I try to practice generative listening, the more I realize that I don't always have the internal state necessary for it to happen. Sometimes it is a very predominant idea in my head that conditions my ability to listen openly and actively. The same is true with empathic listening: sometimes I come from a situation that has generated frustration, or anger, and until I can recycle those emotions, it can be very difficult to offer empathy or an emotional container for another person. I find it difficult to offer compassion and empathy when I need just that.

And what's remarkable is that the precise emotional recycling I need in those situations can easily be generated through the same conversation—another one perhaps, or the same one with a twist. The conversational turn that an exchange requires to be an emotional recycling container has to do with the recognition of the needs of each one of the parties and the shared inquiry about the state of those needs at the time of the exchange. From the understanding that all human beings share the same needs (they only differ in their valence, time and strategies to satisfy them), the CNV has extensively promoted the practice of sharing our needs and the feelings we have from the satisfaction or not of the same. Share our internal state and listen to the internal state, in these same terms, of the other person.

Meditation also allows us to incubate the internal conditions that allow us generative listening. The mere practice of awareness of our breathing in the present moment increases our coherence and equanimity. It can help us tune in or at least identify our feelings and emotions.

We can gain a deeper perspective also through meditation. During the conversation we can visualize roots towards the earth from our points of support (feet, knees, buttocks). Thus we can connect with the loving matrix of creation: Gaia. After taking root, we return to listening with that deep connection. We can then offer a considerably wider channel for emotional recycling and more prosperous and nutritious soil for opening up the spectrum of possibility. Deep ecology can offer us an explanation of this.

Along with deepening my meditative practice, I have also received the gift of deep ecology through Joanna Macy's Work That Reconnects, which has invited me to think about myself from a completely different perspective. Instead of thinking of humanity (and me as part of it) as the central character of the story, deep ecology suggests that we think of ourselves as a larger living system. So I think of myself as an individual of a species, of the thousands of species that make up the effervescent crust of Gaia. The more I meditate from this consciousness (not about this one, but from this one, as a starting point), the more the idea that we are sons and daughters of Gaia, and part of her dance, resonates with me. This notion of psychology posed by deep ecology is sometimes known as ecopsychology.

The great Zen master, Thich Nhat Hanh, was asked, "If there was only one thing we should do to solve the challenges of humanity, what is the wisest thing we could do?" I can imagine that he closed his eyes and searched for the answer in his heart with serenity and a wide smile. "What we most need to do is listen within ourselves to the cry of the earth," he replied.

Every time I come back to that answer, I can go back to a place deep inside of me, the place where I can hear the earth cry. This answer is a precise and powerful invitation to recognize ourselves as part of something much bigger than our species. In that space, I can understand my own emotions and reactions to Gaia's met and unmet needs.
Regenerating our tissues.
Following Thich Nhat Hanh's invitation, paying attention to my attention has made me understand another twist in our conversations: the possibility of regenerating, the possibility of healing and transforming ourselves through conversation.

This is quite evident in the cases of psychotherapies (psychoanalysis itself originated from what one of its first beneficiaries, Bertha Pappenheim -Anna O-, called "the speaking cure"), life coaching, professional coaching, or just a good feedback session at work. Perhaps it is less clear that any conversation can be an instance to honor our ecosystem identity and, while we recognize the needs in our exchange, we can deeply connect to the possibilities and come up with collaborative strategies to achieve new scenarios where we can satisfy our needs and enjoy the collaboration.

any conversation. With the necessary conditions: presence, awareness, detachment from ideas, careful connection, availability, and those three essential attitudes suggested by Scharmer: curiosity (open mind), compassion (open heart), and courage (open will).

Thus, perhaps through listening we will be able to regenerate the ecological, social and spiritual fabric that contains us.

Suggested Readings · Otto Scharmer: Theory U. · Marshall Rosenberg: Nonviolent Communication. · Eckhart Tolle: The Power of Now. · Eckhart Tolle: A New Earth. · Rosamund Stone Zander & Benjamin Zander: The Art of Possibility. · Joanna Macy & Molly Young Brown: Our Life as Gaia. · Thich Nhat Hanh: The Miracle of Mindfulness.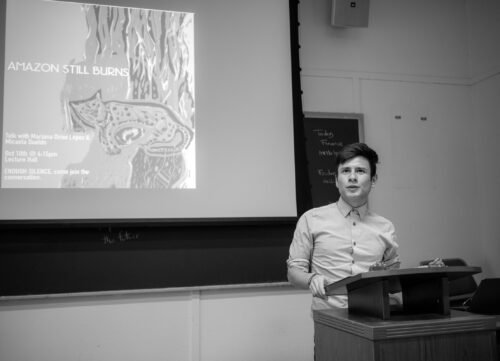 Felipe Fontecilla spoke to us about his perspectives and opinions in his early days as director of Acción Climática in [...]
Read more